Key Data
Type Multi purpose guided missile frigate / destroyer
Builder Marine Industries Group
Operator Iranian Navy
Crew 120-140
Speed 30kt
Displacement 1,420t
Length 94m
Jamaran is the first indigenously built Mowj Class multi-purpose guided missile frigate of the Imperial Iranian Navy. Currently being built by the Marine Industries Group of Defense Industries Organization (DIO), the vessels are locally referred to as destroyers.
The keel for the first vessel, Jamaran, was laid down in 2006. Jamaran was launched in February 2007 and commissioned in February 2010, and is stationed at the Bandar-e-Abbas naval base. The construction of the second frigate, Velayat, commenced in February 2010. It is expected to be commissioned by 2012.

Jamaran multi-purpose guided missile frigate design
The design of the Mowj Class frigate is based on the Alvand Class (Vosper Mk 5) light patrol frigates. The hull form of the vessel does not feature radar signature reducing properties. The displacement of the vessel is 1,420t, which is similar to the size of a light frigate.
The Jamaran warship, which can also be referred as a corvette due to its low displacement, incorporates anti-submarine warfare and other weapon systems to defend surface and air threats. It can accommodate a crew of 120 to 140.
The overall size of the Jamaran is smaller in comparison with the similar warships in its class. The vessel has an overall length of 94m, a breadth of 10m and a draft of 3.1m.

"Jamaran is the first indigenously built Mowj Class frigate of the Iranian Navy."

Jamaran frigate missions
The Jamaran frigates are deployed in range of missions, including surveillance in national territorial waters, early warning, anti-submarine warfare, surface-to-surface and surface-to-air warfare and amphibious operations.
In February 2010, Jamaran accomplished its maiden mission in the waters of the Persian Gulf. The vessel successfully fired missiles against imaginary targets.

Jamaran missiles
Jamaran is armed with Noor long-range anti-ship missiles, four of which are housed in box launchers mounted on the roof of the upper deck level between the radar and main mast. The single-shot kill probability of the missile is as high as approximately 98%.
Iran successfully test-fired the missile from the Jamaran frigate in March 2010. Noor can hit the targets within a range of 200km and is powered by a Toloue-4 engine.
The Mowj Class has four SM-1 surface-to-air missiles for aircraft self-defence. These missiles are fired from box launchers fitted at the main deck close to the helipad.
A new surface-to-surface missile, named the Nour, was test fired from the Jamaran destroyer in March 2010. Launched in the waters of the Persian Gulf, the test was successful with the missile having hit its target from a distance of 100km. Iran is also planning to build an upgraded missile with a 300km range.

Frigate torpedoes
The Jamaran frigate is equipped with a close-in anti-submarine weapon system. Two triple torpedo launchers on either side of the stern can launch 324mm light torpedoes.

Mowj Class guns
The Mowj Class is fitted with two 20mm manned cannons and a 40mm automatic cannon, providing shipboard point-defence against incoming anti-ship missiles and aircraft.
The main gun, a 76mm Fajr-27, is fitted on the forecastle. The Fajr-27 is a multi-purpose gun, which can be used against surface, air and onshore targets. The gun has a range of over 17km and can fire at a rate of 85 rounds per minute.

Jamaran helicopter system
Jamaran is the first helicopter-capable surface combatant of Iran. The flight deck of the frigate accommodates an AB 212 anti-submarine warfare (ASW) helicopter and allows helicopter in-flight refuelling (HIFR) operations. The AB 212 is equipped with a low-frequency variable depth sonar and radars to track the submarines at long range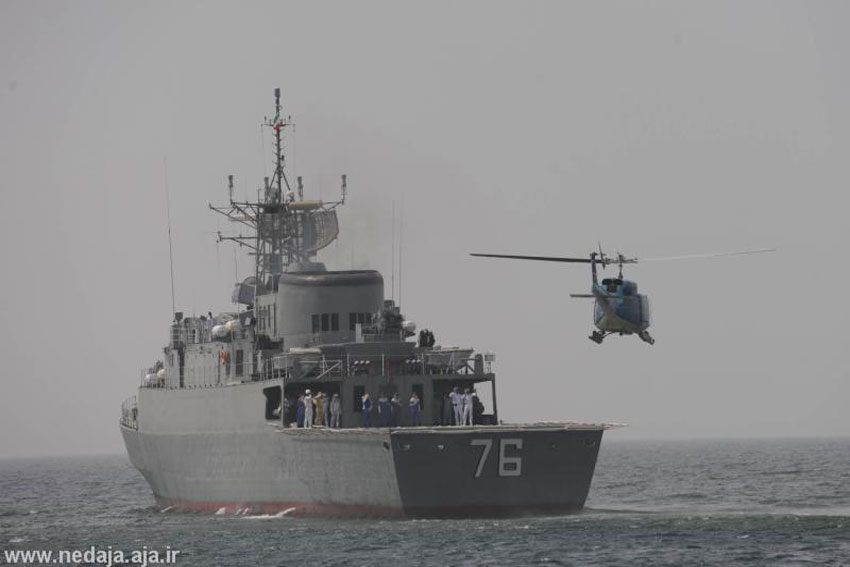 Jamaran sensors / radars
The sensor suite of the frigate includes a Plessey AWS-1 long range air/surface search and tracking radar, and two navigation radars. Plessey AWS-1 is fitted on the roof of forward of the funnel, while navigation radars are installed on the main mast. Jamaran is also equipped with a fire control radar, which is identical to the one on the Alvand Class frigate.

Jamaran propulsion
The Jamaran Class destroyers are powered by two 10,000hp diesel engines in addition to four diesel generators, which provide auxiliary power. Each genset is rated at 550kW. The propulsion system provides a maximum speed of 30kt
source: http://www.naval-tec...anmowjclassmult
video: http://www.aparat.com/v/lRujM